MINERVA MAGAZINE
---
At Seattle Central Creative Academy I was challenged to redesign an existing publication with the intention of diversifying its subscription base. Because of my love of ancient art and culture, I chose Minerva.
I aimed to gain new readers through interesting design and editorial curation. Presently, readership is limited to museum industry professionals, academics and history buffs. My revamp ropes in younger readers and a more casual museum going, history loving crowd.
The Colour Issue
I wrote a letter from the editor that inspires readers to wonder about the evolution of colour in art. This layout drives it home by comparing a monochromatic cave painting with a high spectrum color gradient.
From The Editor
spread
Design Vision
I drew new readers in by placing ancient art in a new light via contemporary design trends. Particularly the use of cut-outs, negative space, patterns and a mixture of modular and columnar grid systems.
Content + grids = Minerva
Old vs New

Before and after layouts of an exhibition review of paintings by Sir Lawrence Alma Tadema. I used modular grids and more negative space and played with scale. My opening spread highlights the art's eroticism, which for Victorian England, was risqué.
Original featurewell article opening spread
My redesign of the opening spread
In The News
I designed these articles up to look like they've been torn from a newspaper and pasted into the magazine. It's a playful way to breath life into Minerva's basic news section.
Torn newspaper effect created in Indesign
News presented as if it was taken from an actual newspaper complete with sensational headlines.

Editorial Voice
To make history more relatable my curatorial solution was to feature articles that would invite readers to draw connections between ancient art and current socio-political issues. Research brought me to my feature article I retitled
Whitewashing the Ancient World
. The author, Sarah Bond, argues how the latest research in the study of Polychromy (the art of painting in several colors, especially as applied to ancient pottery, sculpture, and architecture) reveals racial bias in contemporary depictions of ancient history.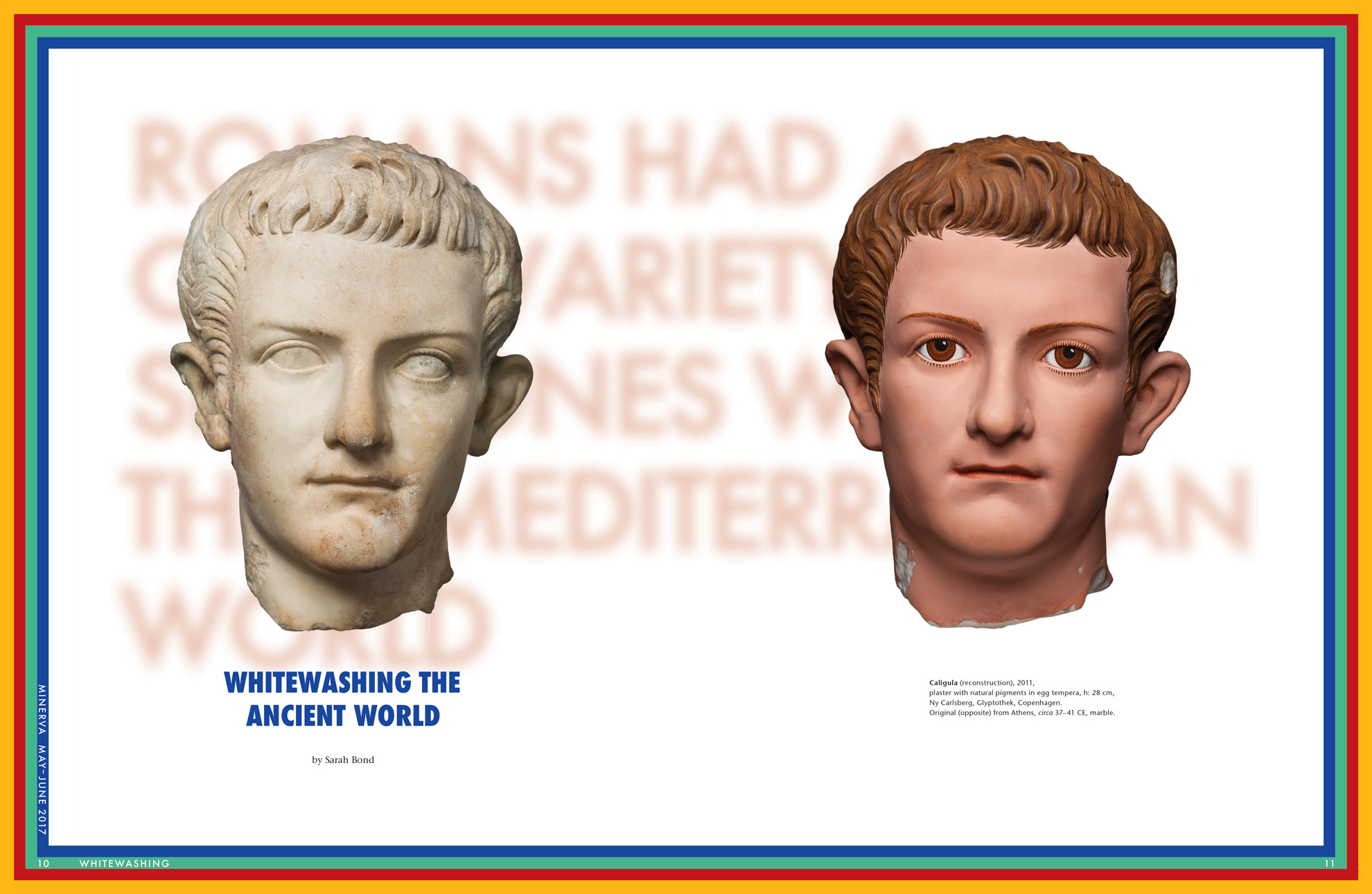 Self Published